In conjunction with Microsoft's ongoing BUILD Windows conference, we have just released betas of the next version of the Microsoft Web Platform. Today's releases include a lot of new functionality and I encourage interested parties to have a look at what's new in ASP.NET and WebMatrix.
In this post, I'm going to focus on one aspect of the WebMatrix 2 Beta: extensibility. By exposing a public API and opening up the application to others, WebMatrix enables individuals and community members to customize the experience to best fit their own unique processes and workflow. Many aspects of the development experience are configurable, so users can become more productive by streamlining common tasks, automating monotonous ones, and simplifying difficult ones!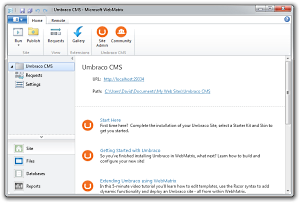 Extensibility for the WebMatrix 2 Beta takes three forms: task-based extensibility, help extensibility, and extensions.
Task-based extensibility refers to the ability of a web application like Umbraco or WordPress to embed a file within the install package to customize the WebMatrix user interface for that particular application. By providing some simple XML, applications in the Web App Gallery can add custom links to the Ribbon or dashboard, protect core application files, provide enhanced Intellisense for PHP, and more.

Help extensibility makes it possible to integrate custom content with WebMatrix's new, context-sensitive help pane. The new help system shows links to relevant content and videos based on where the user is in the application and what he or she is doing. Help content is drawn from a variety of sources; content providers can create custom feeds to cover new topics or provide more context on existing ones. This article explains how to create custom help content.

For developers, the real power lies in the ability to write extensions that run inside WebMatrix because they're capable of far richer customization. WebMatrix extensions can be written in any .NET language, are loaded by MEF, the Managed Extensibility Framework, and installed/uninstalled (behind the scenes) as NuGet packages (with a slight twist I'll explain in a different post). Similar to Visual Studio, WebMatrix has an extension gallery that allows users to browse and install extensions from a central feed - or create and share custom feeds!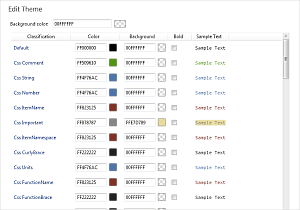 Opening WebMatrix's extension gallery (by clicking the "Extensions/Gallery" Ribbon button from the Site workspace) shows some of the extensions that have been created to help give an idea what's possible. I'll call out three of them:
ColorThemeManager - This extension by Yishai Galatzer allows you to customize the colors used by the file editor in WebMatrix, export your settings, and import settings from other sources. So if you're one of those people who enjoys looking at green on black text, then you're in luck. :)

ImageOptimizer - This extension by Mads Kristensen makes it easy to "optimize" the PNG and JPEG images of a web site by removing unnecessary metadata and recompressing content to minimize file sizes - thereby keeping bandwidth down and site responsiveness up.

Snippets - This extension by me makes it easy to insert snippets of text into an open document in the Files workspace. It was written to make WebMatrix demos a little easier (watch for it in the WebMatrix: uber geek in designer clothes presentation today at BUILD!), but its simplicity makes it a good learning tool, too. I'll be blogging the complete source code for Snippets in a few days.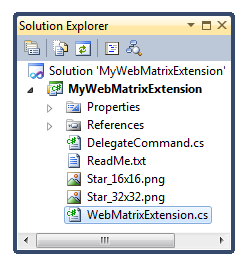 In addition to providing an overview of the Snippets sample, I plan to discuss other aspects of WebMatrix extensibility over the next few weeks. In the meantime, you can start exploring WebMatrix extensibility today:
Download the Microsoft.WebMatrix.Extensibility CHM file, unblock it (important: click here for directions on "unblocking" a file), open it, and browse the contents. (If you see the message "Navigation to the webpage was canceled", then the file is still blocked.)

Download the "WebMatrix Extension" Visual Studio project template, save the ZIP file in your "%USERPROFILE%\Documents\Visual Studio 2010\Templates\ProjectTemplates" directory, choose File, New, Project in Visual Studio 2010, select the "Visual C#" node, click the "WebMatrix Extension" item, type a project name (ex: "MyExtension" (no spaces, please)), and click OK.
The project template sets up the right infrastructure, all the necessary references, includes pre- and post-build rules to make development a little easier, and helps get you started with a simple Ribbon-based extension that demonstrates some of the basic extensibility points. The template's ReadMe.txt explains how to configure Visual Studio so that pressing F5 will automatically load the extension inside WebMatrix for a simple, seamless debugging experience with complete breakpoint support, etc.. FYI that I'd like to improve this template by adding support for NuGet package generation (so it will be easier to deploy extensions to a gallery) and maybe also create a VISX wrapper for it (to enable more seamless install of the template itself).
Aside: While the project template "helpfully" copies your extension to the right place for WebMatrix to load it on startup, the extension is not properly installed and so WebMatrix doesn't know how to uninstall it. For now, the easiest way to get rid of a custom extension is to close WebMatrix and delete the contents of the "%USERPROFILE%\AppData\Local\Microsoft\WebMatrix\Components" directory.
The new extensibility APIs in the WebMatrix 2 Beta allow developers to get started with extensions today. And while there aren't yet extension points for everything, there are enough to enable some pretty interesting scenarios. Available extension points include: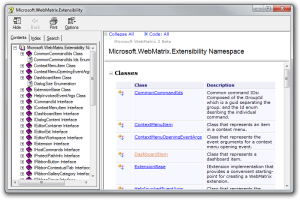 Ribbon content

Buttons, groups, tabs, etc.

Application information

Name, local path, remote URI

Integrated dialog and notification UI
Context menu items for application files/directories
Editor manipulation

Text buffer, settings, theming, custom types

Dashboard content
Simple commanding
Active workspace
More...
That said, people are going to have a lot of great extension ideas that are either difficult or impossible to achieve with the Beta APIs. Not being able to put good ideas into practice is certainly disappointing, but it's also a great opportunity to let us know what features are missing from the API and how we can improve it! To make that easy, there's a WebMatrix forum where you can ask questions and exchange ideas. Once you've tried things out, please go there and share your thoughts!
Aside: It probably goes without saying (but I'll say it anyway!) that the APIs available in the WebMatrix 2 Beta are subject to change and it's likely that extensions written for Beta will need to be modified in order to run on later releases. That's not to discourage people from writing extensions, but rather an attempt to set expectations appropriately. :)
Further aside: It's natural to wonder if existing plugins for Visual Studio will "just work" in WebMatrix. The answer is that they will not - but in most cases it turns out that trying to load a Visual Studio extension inside WebMatrix wouldn't be all that meaningful anyway... At this point, the functionality of these two products and the target audience (both users and developers) are different enough that things don't align in a way that makes this scenario work.