If you happen to have 11 minutes, 2 seconds lying around and don't know what to do with yourself, you might consider watching or listening to episode 5 of the Inside Windows Phone show on Channel 9. Of course, I'm a bit biased - this episode features Dave Relyea and I talking about the new controls in the Silverlight for Windows Phone Toolkit we just released. Dave and I were two of the four people who created the Phone Toolkit (the others being Scott Morrison and Will Faught) and were fortunate to be invited by Jaime Rodriguez to talk about it on Channel 9. (If you've never seen a Channel 9 video, it's informal and off-the-cuff. No script and no re-takes - at least for us!)
Without further ado, here's Inside Windows Phone #05:Windows Phone Silverlight Toolkit: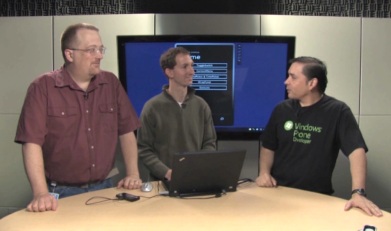 If you enjoyed that, you might also enjoy Inside Windows Phone #06: Panorama and Pivot are in the house! Woohoo!! which covers the new Windows Phone Panorama and Pivot controls. This was another project Dave Relyea, Scott Morrison, and I were involved in - along with Jeff Wilcox (who's featured in the video).
Thanks a lot to Jaime and the Channel 9 folks for creating these videos. I hope you find them useful - or at least entertaining! :)